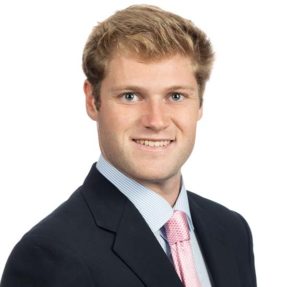 Charlie Swartwood was hired at Blaze in October 2021 as an investment analyst. In his role, he focuses on underwriting, market research, assisting in the diligence process and drafting proposals and pitch decks. He is also beginning to get his feet wet in deal sourcing.
He says that his favorite part of his job is tackling the unique challenges that each individual deal presents. You will never encounter the same deal twice; however, it is always important to apply key learnings from past deals to every new scenario. The variety and diversity of deals and workflow keeps the role of investment analyst exciting and fosters an environment for learning.
Prior to joining our team, Charlie graduated from the Eli Broad College of Business at Michigan State University in 2021. During his time in undergrad, he supplemented his academic career with three internships. His first internship, after his sophomore year of college, was at a commercial real estate firm similar in structure and focus to Blaze. There, he learned the basics of real estate and the ins and outs of how it operates at all levels of the industry, from sourcing to closing. Charlie also was an active member of a real estate investment club at his university.
Charlie knew commercial real estate was the industry he wanted to build a career in because he enjoys the relationship building and financial aspects of the industry. A problem-solver to his core, he utilizes his critical thinking skills and first-hand knowledge as a renter himself, to provide solutions in the rental housing space. His goal, aligned with Blaze's overall mission, is to help communities thrive.
Since he decided on a career in commercial real estate, Charlie knew he wanted to join a small, growing firm, where he could form genuine relationships with his coworkers and have countless opportunities for learning and career growth. When he started at Blaze, Charlie admits there was a bit of a learning curve but everyone from his peers to his supervisors were quick to offer support, recognition and advice as he began his first full-time role. The company culture at Blaze extends past the office, too. Freshly graduated, Charlie was new to Charleston and his Blaze coworkers made him feel instantly right at home. They often meet at the golf course after work to enjoy a round of golf and decompress from the workday.
A growing firm, Blaze has an entrepreneurial culture, which Charlie admires. He is grateful for the opportunity to learn from Co-founders and Managing Partners Eddy O'Brien and Chris Riley on a daily basis. Charlie has dreams of opening his own commercial real estate investment firm one day and is soaking up all the knowledge and experience he can get from Blaze, as he continues to build his career. Networking within Blaze, and within the wider commercial real estate community, is a current focus of Charlie's professional development efforts. His advice to new Blaze associates or prospective new hires is to put in the hard work from day one – and you will see the results in no time. Charlie says "there is no substitute for hard work," but also emphasizes the importance of leaning on your team and asking for help when you need it.
For more information about current openings at Blaze visit our careers page and check out our other Blaze Rising Star blogs here.