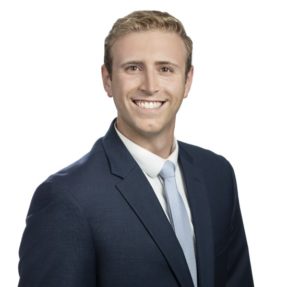 Justin Ciferno began his career at Blaze as an investment analyst in April 2021. In this role, he assisted with acquisitions, development, asset management and capital markets. In February of 2022, we were proud to promote Justin to the position of investment associate after demonstrating growth and leadership. 
His responsibilities on the development side of the business include managing the development models, leading the analytical work, and coordinating with Blaze's consultants – architects, civil engineers, property managers, and tax and insurance representatives – to move the development process forward through entitlements and to construction as efficiently as possible. 
Justin also assists in other areas of the business – capital markets, asset management, human resources – that help make our team more successful. He enjoys exercising his creativity through research and problem solving, to help see Blaze's vision through with each development. Justin says it is very rewarding to watch a development take shape from the ground up and improve the surrounding community for future residents.         
Since he was a child, Justin has had a fascination with construction and loved watching new houses and high-rises be constructed in his city. Before he started working at Blaze, Justin graduated from The Ohio State University, where he studied finance and real estate. He joined real estate-focused clubs, which helped him narrow down his field of interest. Prior to joining Blaze, Justin worked as a financial analyst at firms in multifamily development and acquisition and private equity. In these roles, he was able to hone his skills in analytics and financial modeling, and learn how to support the deal execution process from sourcing to closing – all critical skills he has brought to his job at Blaze.
Justin enjoys the small-but-mighty atmosphere at Blaze and feels he was able to learn a lot about every aspect of the commercial real estate industry by being exposed to different teams and responsibilities in his early role as an investment analyst. However, he notes that time management and prioritization are skills he had to master in order to be successful. Blaze has helped him identify what areas of the business he is most interested in and the firm's close-knit, entrepreneurial spirit was a key factor in choosing to join the team (qualities also acknowledged by fellow rising star Charlie Swartwood). Justin says he has felt like a valued member of the team since day one on the job. Justin also emphasizes the strong work ethic possessed by everyone at Blaze but shares that team building and celebrations of wins are a big part of the company culture. 
As he continues to grow in his career, Justin is working to expand his professional network by making industry connections and developing strong relationships with his coworkers and supervisors. Justin continues to take on more responsibilities within the scope of his role and he says his long-term goal is to see a development through the entire lifecycle – from land sourcing to buildout. He advises new hires at Blaze that the best way to navigate the "unknown unknowns" is to ask a lot of questions and always put your best effort forward. Justin has learned from experience that showing you are willing to work hard and absorb new learnings will take you very far at Blaze and in the wider commercial real estate community. 
For more information about current openings at Blaze visit our careers page and check out our other Blaze Rising Star blogs here.