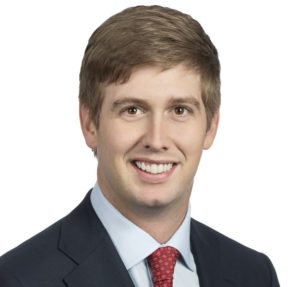 Jack Blaine was hired as an investment analyst at Blaze in May 2021 and promoted to his current role of investment associate in February 2022, supporting the acquisitions team as Blaze rapidly expands its portfolio throughout the Southeast. He is responsible for sourcing, underwriting and ultimately seeing deals through from due diligence to closing and completion. Hundreds of deals come across the acquisitions team's desk each month and depending on where Jack is in the deal cycle, he might even be working closely with fellow rising star Charlie Swartwood to underwrite deals and choose the ones that best align with Blaze's strategy. 
Growing up, Jack always had a strong interest in real estate – it's in his blood, after all! His dad was a land-use attorney, introducing him to the industry and sparking his curiosity from a young age. After graduating from the University of Virginia, where he was part of the McIntire Business Institute, he worked at two commercial real estate firms in the Washington, D.C. metro area. His initial roles were in the office sector, but since switching over to multifamily, Jack believes the work feels much more personal – "you're creating someone's home."
When he was preparing to move from Washington, D.C. to Charleston, S.C., Jack was searching for a job in the commercial real estate industry and was drawn to Blaze because of the people and culture. After researching many other firms, Jack's conversations with Eddy O'Brien, Chris Riley and others on Blaze's leadership team solidified the company as the place he wanted to grow his career. He says he enjoys working for a vision-oriented firm and also feels like he can thrive in the intimate, collaborative environment, just like his coworker Justin Ciferno. 
While hard work and dedication are key, Jack admires how Blaze maintains a dedicated company culture committee that plans regularly scheduled events, outings and happy hours. The Charleston and Atlanta offices, though in different states, strive to stay connected through joint team-building events each year. Jack notes how these events allow everyone to get to know each other and bridge the gap between the two branches of Blaze.
As he continues to build his career at Blaze, Jack plans to continue sharpening his skills on the acquisition team and collaborating with his Blaze coworkers to meet their one- and five-year goals. On a more personal level, one of his five-year goals is to advance to a director-level position at Blaze, where he could use his leadership skills to directly manage a team and lead it to success. Jack notes that his personal goals closely align with Blaze's company goals, which he credits to the high-growth, entrepreneurial nature of the company. 
Jack would advise prospective Blaze employees to have a strong grasp on fundamentals such as underwriting, basic financial analysis and especially Microsoft Excel – which he says will get you far. Jack urges new hires to "know what they don't know" and use that drive to build upon their skill set and grow professionally. There is a learning curve at every job but understanding your strengths and weaknesses will help you thrive.
For more information about current openings at Blaze visit our careers page and check out our other Blaze Rising Star blogs here.